Why planet Earth is burning?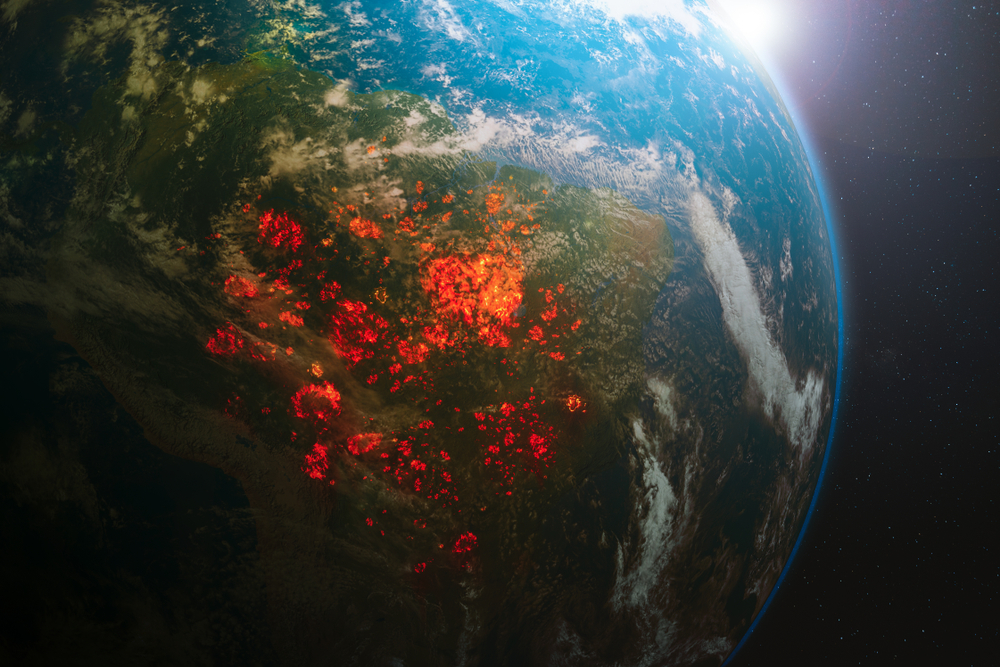 2018 was the deadliest and the most destructive wildfire season in California with 102 fatalities and costing over USD 3.5 billion. Around this time a lot of wildfires also occurred in other parts of the world. For example, in Greece in 2018 about 102 people lost their lives in a wildfire. In Portugal in 2017 wildfires took 66 lives. And it didn't stop there.
---
The 2020 California wildfire season was a record-setting year in this region. By the end of the year, 9,639 fires had burned 4,397,809 acres (1,779,730 ha) - more than 4% of the state's roughly 100 million acres of land. The 2020 Oregon wildfire season was one of the most destructive in the state of Oregon. The fires killed at least 11 people, burned over 1,000,000 acres (400,000 ha) of land, and destroyed thousands of homes.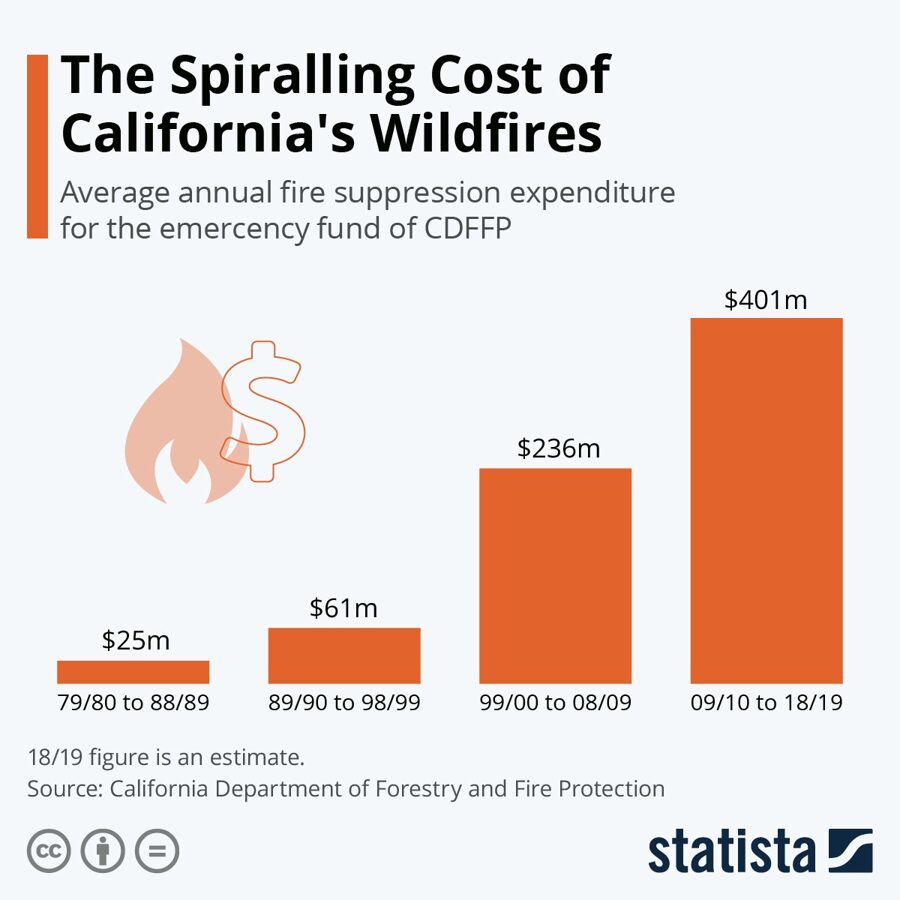 2019 - 2020 Australian bushfire season was also known as Black Summer. In June 2019, the Queensland Fire and Emergency Service warned that this year the bushfire season might start early due to exceptionally dry conditions and a lack of soil moisture, combined with early fires in central Queensland. Bushfire season in Queensland normally starts in August.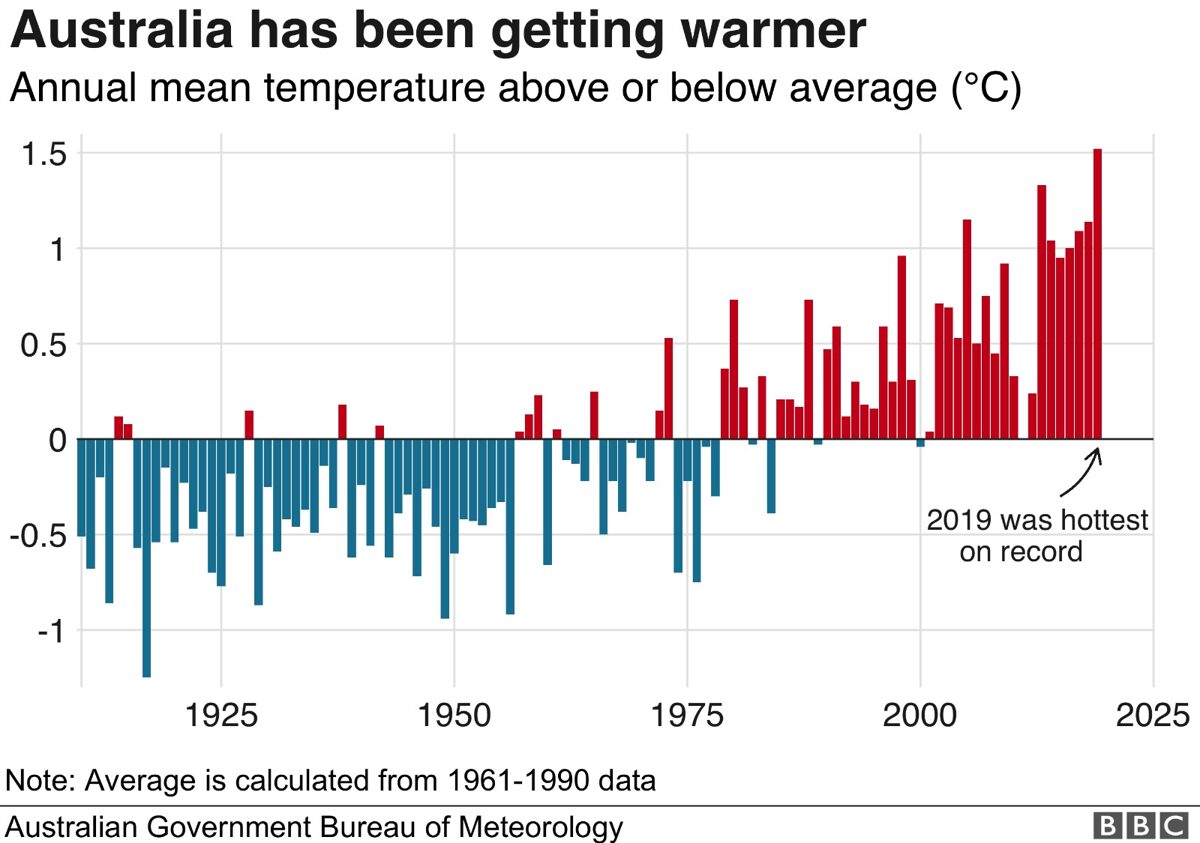 However, the worst fires happened in December and January. As of 2 January 2020, NASA estimated that 306 million tonnes (337 million short tons) of CO2 had been emitted. By 7 January 2020, the smoke had moved approximately 11,000 kilometers across the South Pacific Ocean to Chile and Argentina.
What is the reason and what we can do about it?

Searching for the reason
And so it goes on. The number of wildfires is increasing each year. Despite the fact that there are a lot of different technological achievements available that could help to prevent them, the situation isn't improving. There are several reasons for this as well as several available solutions. But to find out about them let's take a look at history going back about a century.
The challenges and reasons are similar all over the world. Let's use an example from the Latvian countryside to illustrate the situation. The first map is from the Central Statistical Bureau of Latvia. It shows the density of population in rural areas in 1935: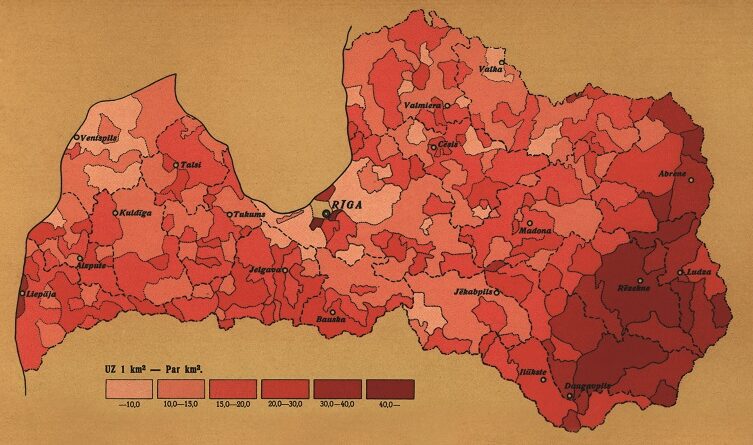 The capital city Riga is in the middle. The density of the population is located a bit further away - in the region called Latgale in the eastern part of Latvia. It is the same density we currently see around Riga. And to illustrate the situation even more, here is a historical picture from the same Latgale region at that time: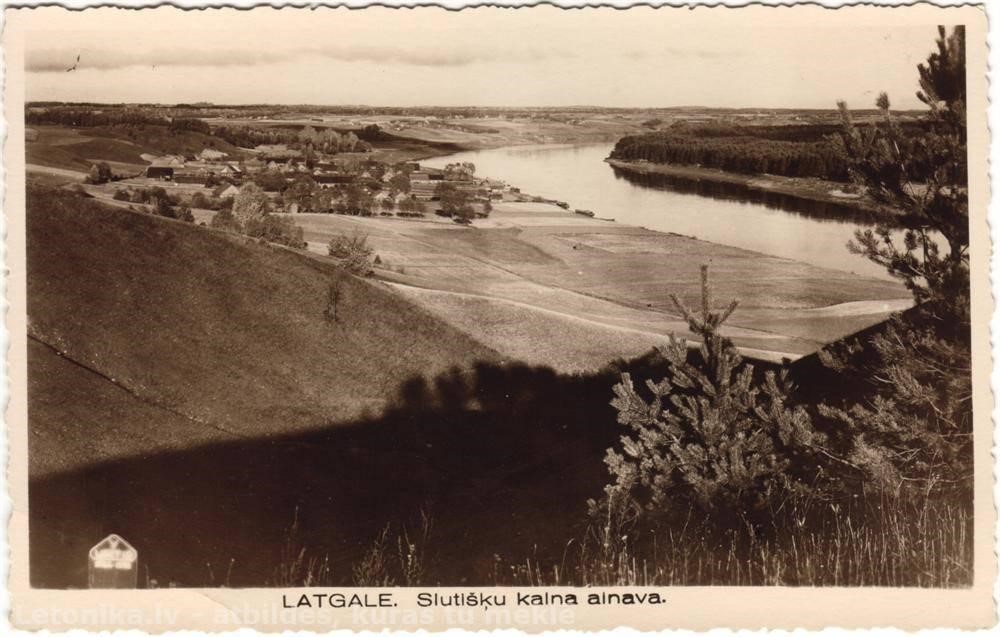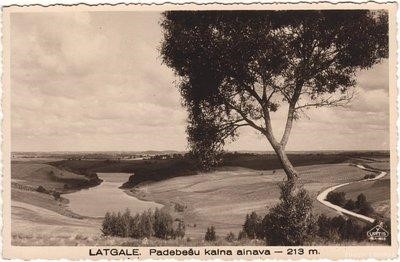 A lot of people were living in the region at that time. Everybody has their own piece of land that was taken care of and there were no small bushes or trees around. Of course, there were some woods, but only as much as people needed, for example, for heating. Everything else was cut down.
Nowadays the situation is different. Here is the map from 2018. Pay attention to the density around the capital city of Riga: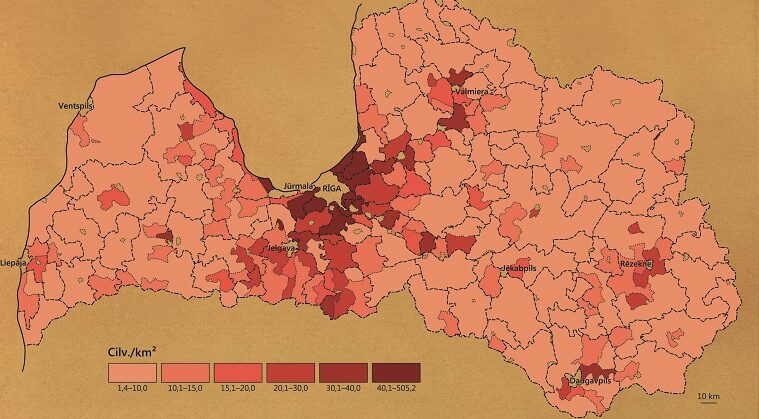 And accordingly, the same small spot in Latgale currently looks like this: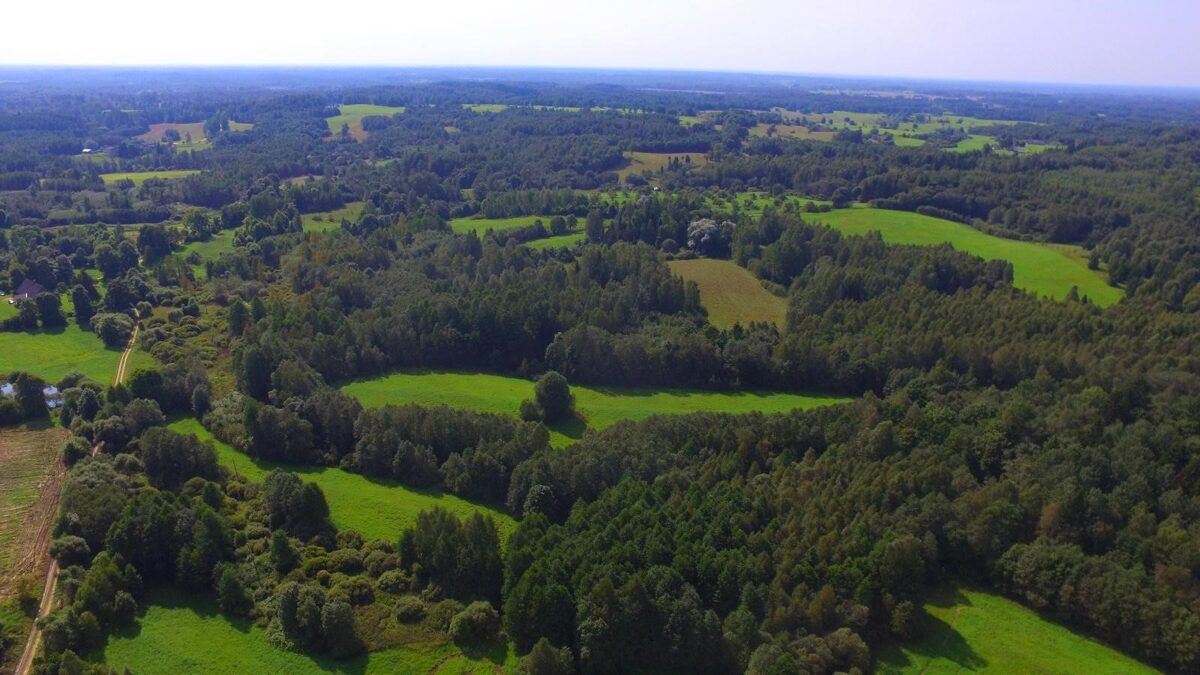 The whole area is covered with small bushes and trees. No farming there anymore. People used to have meadows where they used to get grass for their animals. Now everything is covered with trees. It takes only approximately 10 years for a meadow to become covered with trees. And let's face it - we do not expect people to go back and start an agricultural activity like it was 100 years ago.

It is a similar situation all over the world. For example, in the middle part of the United States where they have hills and mountains - it's exactly the same story. 100 or 200 years ago the area had scarce woodlands. If a fire breaks out there, it is not a big deal, because there is no material to burn. These days everything is covered with woods. Urbanization is taking place. It's the same story in Australia, which is constantly struggling with wildfires. Vegetation management by humans is one factor mentioned as a cause of the Australian Black Summer of 2019-2020. And the most destructive fires in Australian history have usually been preceded by extreme high temperatures, low relative humidity, and strong winds, which combine to create ideal conditions for the rapid spread of fire.
Fire needs material to burn
When a fire starts and there are a lot of small trees and bushes around, it has enough material to spread. Bushes in particular increase the likelihood of fires breaking out. In addition, dry trees and old trees that have fallen down are good materials for a fire to spread.
So how does a fire start? There are three main causes of wildfires. One is human beings. That is the reason why a lot of wildfires are happening close to civilization. The other common cause of wildfires is weather conditions. For example, thunder and lightning without rain (dry thunder) occur in some areas of California and Siberia where a huge volume of woods burn down every year. Nobody really cares if people are not living close to those places. However, there are also areas where woods are growing and villages are nearby...
The third reason is climate change. It is becoming warmer on Planet Earth. A lot of people say that the desert is moving into Spain and Italy because the weather is getting dryer there. Actually, it is even moving up to North. And if there is a dry spring with 2-3 months of no rain at all that follows a winter without snow, it is very easy for fires to break out among small trees, grass, or lower vegetation. The forecasts of climate change are showing that this risk is increasing. Scientists have high confidence that global temperatures will continue to rise for decades to come, largely due to greenhouse gases produced by human activities. High temperature, high winds, and dry weather are major factors that have an impact on wildfire risks. Current trends of yet more record-breaking wildfire devastation indicate that these risks are increasing.
Overall, additional precautions should be taken, as we cannot expect people to turn back to the old way of life. Industrial forest management may help, especially if regular maintenance of woodland takes place.
What can be done in practice to eliminate the risks of wildfire?
There are two sides to the story. One says that something should be done. The other says that everything should be left as it is. Everyone has their version of what the correct approach is. In both cases, what should be done and what works is that firebreaks should be created for firefighters to be able to access even the deepest territories in the forest so work of putting out fires can start as soon as possible. The other advantage of firebreaks is that if there is no fire in the crowns of trees, the fire will stop there.
A country with one of the best track records of fighting wildfires successfully is Finland. The Washington Post wrote that Finland is a good example at least to other neighboring countries. "It has managed to bring down the area annually destroyed by wildfires from sometimes over 100,000 hectares a century ago to now less than 1 percent of that. This is in comparison to 25,000 hectares lost in Sweden this summer. (..) According to Finland's Forest Association, "The difference between the two Nordic countries is not explained by vegetation or climate but are believed to be based on differences in infrastructure and forest management."
Another option that should be considered is educating society. Of course, it is possible to prohibit entering forests during the most dangerous period of the year when the possibility for the fire to start is at its highest. However, this is not the solution as people should understand how they can accidentally cause the fire. And education should start with kindergartens, as well as schools.
And another option is early wildfire detection while using different technological tools. This is where Amplicam can help. Thus we have compiled the most popular options and you can read the full story about them in this blog post.
No comments
Leave a reply